The Movie Man's Matinee, Vol. 2: Rare Silent Comedies from the Vault of John K. Carpenter
Seven ultra-rare silent comedies from the archives of film historian John K. Carpenter, some never before on DVD...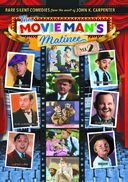 SALE:
$

5

.95
List Price:
$7.98
You Save:
$2.03 (25% Off)
Available:
Usually ships in 1-3 business days
DVD-R Details
Run Time: 1 hours, 50 minutes
Video: Black & White
Encoding: Region 0 (Worldwide)
Released: October 23, 2018
Originally Released: 1925
Label: Alpha Video
Performers, Cast and Crew:
Entertainment Reviews:
Description by OLDIES.com:
For years, film historian John K. Carpenter ('The Movie Man') has been one of the most dedicated supporters of the art of silent comedy. Now he presents more rarities from his archives. "Like an Indiana Jones of film history, I started hunting for 16mm prints when I was still in short pants. That's why so many of the films on these DVDs can't be seen anywhere else. These shorts demonstrate how many of Chaplin, Keaton, Lloyd and Langdon's contemporaries are just as funny as those icons on "The Mount Rushmore of Silent Comedy." It proves once again that the silent era was the most creative period in film history!"
THE SERVANT GIRL'S LEGACY (1914): Servant girl Mabel Paige rejects her long-suffering boyfriend Oliver Hardy (here billed as "Babe Hardy") after she comes into a large inheritance.
SOMETHING IN HER EYE (1915): Billie Rhodes gets some dirt in her eye, causing her to wink uncontrollably. Soon she has a horde of unwelcome admirers, including Oliver Hardy.
VILLA OF THE MOVIES (1917): "Slim" Summerville is a mild-mannered boarding house tenant supplying arms to the Mexican Revolution in this bizarre comedy from Mack Sennett, featuring Glen Cavender as "Pancho" Villa.
PLAGUES AND PUPPY LOVE (1917): Pretty, virginal Florence Curtis is being pursued by four dastardly cads in the park – and only a less-than-brave Larry Semon can save her.
THE SLEUTH (1925): Stan Laurel is a master detective who uses a series of disguises – including dressing in drag(!) – to always get his man.
SEA SCAMPS (1926): Malcolm Sebastian starred in a series of Educational comedies as "Big Boy", beginning at the ripe old age of two in 1925. Here he's paired with some other kids on a mishap-prone sea cruise in an attempt to create an ersatz Our Gang.
HELLO SAILOR (1927): Lupino Lane and his brother Wallace are a couple of sailors on shore leave who get mixed up (literally) with twin sisters. Directed by Mark Sandrich, later renowned for his work with Fred Astaire, including The Gay Divorcee (1934), Top Hat (1935), and Holiday Inn (1942).
BONUS: Felix the Cat in False Vases (1929): Felix the Cat visits China to replace a broken vase for his hot-tempered wife. "Felix the Cat cartoons are not only unusually surreal," says Carpenter, "but also packed with what is now thought of as politically incorrect humor."
Similar Products
Product Info
Sales Rank: 9,239
UPC: 089218814395
Shipping Weight: 0.25/lbs (approx)
International Shipping: 1 item